The Unified Communications Switchvox Phone System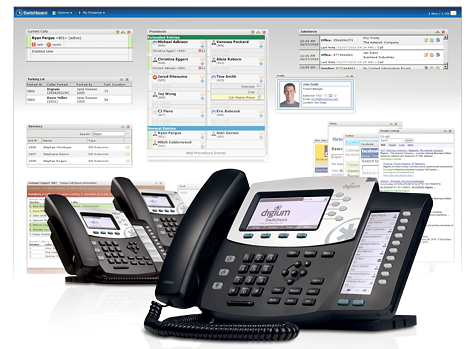 Switchvox VOIP systems are the next generation of business phone systems. Switchvox is everything you don't expect from a phone system. It's truly affordable, easy to setup, simple to configure, and a breeze to maintain. It has features that let your business run more effectively and with fewer hassles. It does all of this for a fraction of the cost of the PBX dinosaurs of the past. Our Digium Certified Switchvox Engineers are standing by waiting to update your VOIP phone system and unshackle your employees from their old PBX system.
VOIP "is a general term for a family of transmission technologies for deliver of voice communications over IP networks such as the Internet or other packet switched networks. Other terms frequently encountered and synonymous with VOIP are IP Telephony, Internet telephony, voice over broadband (VOBB), broadband telephony, and broadband phone. VOIP systems usually interface with a traditional PSTN (Public Switched Telephone Network) to allow for transparent phone communications worldwide." (Source: wikipedia.org)
Take Advantage of 21st Century Technology
Upgrade to the next generation phone system today to empower your employees!
Digium Switchvox Phones – Four popular phone models to choose from!
Digium has purpose built D40, D45, D50, and D70 line of phones for the Switchvox VOIP Phone System. Because of this, they automatically configure themselves with the system for simple setup and provisioning.
Switchvox Video
If you would like to see more videos and read more about Switchvox, you can visit their website here: