Hey there! So you are looking for a trusted IT partner to outsource the maintenance of your critical computer network infrastructure? Well, you've come to the right place!
Methodology
Springs Hosting Engineers and Technicians follow strict best practices and proven methods to deploy and manage your critical computer network infrastructure.  Our staff keeps up-to-date on the latest technology and relentlessly monitors your network 24/7.  We standardize on best of breed platforms so that we can quickly deploy emerging technology and respond to the latest digital threats to your company.
Why Hire Us?
Quick and Convenient Support
Highly Experienced Certified Staff
Use of Best Practices are Standard
Instant Access to New Technologies
Support Anytime and Anywhere
Full Service Managed IT Solutions
Get the level of service and support that your business and employees deserve!
A Trusted IT Partner that Understands Technology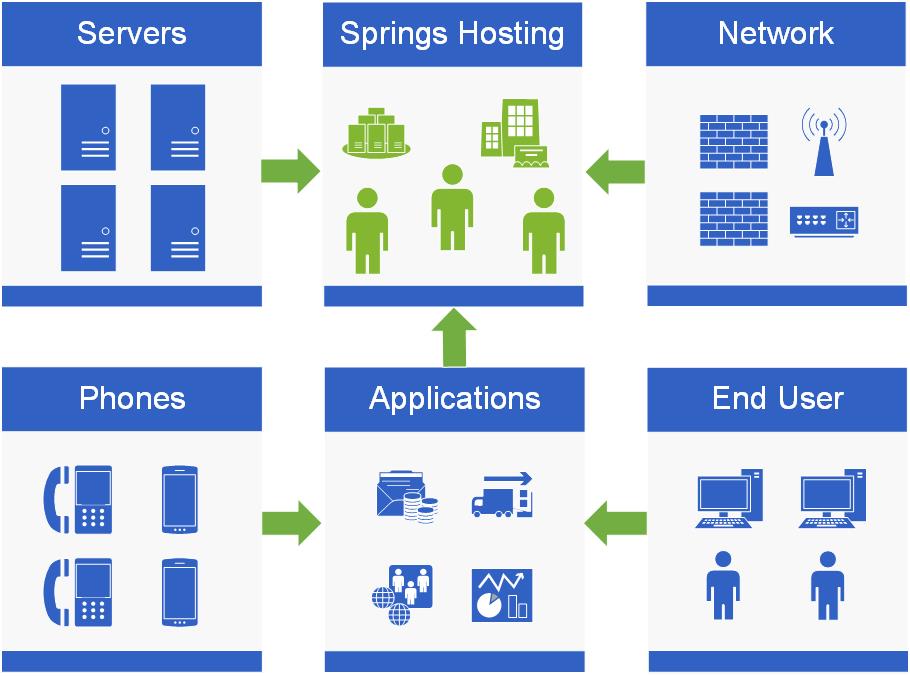 Our Managed IT Services
Our services are easily integrated into ANY IT environment. In fact, many of our larger customers with existing IT staff continue to perform their day to day operations including desktop support and we are hired to handle the specialized services like their Cisco equipment and Microsoft Exchange servers.
Network Support
We take care of your equipment so your staff can concentrate on growing your business. This means switches, servers, workstations, and firewalls.
Network Architecture
With our decades of in house experience, we are a huge asset to have when your company's network grows.  We can adapt your network to support upwards of 10,000 employees.
Network Monitoring
We monitor your network and critical infrastructure 24/7 and in many cases we know when something is wrong before your staff does.
Experience
Our engineers and technicians hold a variety of certifications that include Microsoft, Linux, and Cisco certifications.  With this wide variety of in-house talent, our customers rarely have to hire outside consultants which helps reduce costs.
Disaster Recovery / Backups
Keeping a copy of your data off site from your primary business location is paramount to any network and we deliver multiple solutions to keep your important data backed up every day.
Data Center
We provide the tools to host even your most demanding applications and our IT staff will keep it all running efficiently and like clockwork.