Greetings! So you are looking for a way to reduce the junk mail that is finding its way into your inbox? You are looking for something with a high KILL rate on spam and low false positives? Our spam protection appliances are what you are looking for!
Why Springs Hosting Spam Protection?
We are a registered Partner with MailFoundry providing both hosted and on-premise anti-spam devices for businesses. We chose MailFoundry to compliment our hosting infrastructure and deployed it to maintain complete email spam protection for our customers. Using our spam prevention devices for your email inbox is as simple as changing your MX records.
All of our cPanel hosting plans include MailFoundry to filter customers email from spam, virus, and other internet borne threats to their networks and workstations. Businesses using Microsoft Exchange™ or equivalent in house mail systems also benefit from our email spam protection by relieving them of hours per week sifting through spam and reducing the overhead on their mail servers would have expended CPU and RAM resources attempting to process the extra 80% of mail that would normal reach their servers.
Stop Spam in its Tracks!
Our email spam prevention systems directly integrate with Active Directory and your Exchange Server making it painless for you to maintain.
Four Simple Options
View – Click to see the email without releasing it into your inbox.
Release – Click to release the email into your inbox
Release and Report – Click to release the email into your inbox and report the email as NOT spam.
Delete the email – If all the emails in the quarantine are spam, simply delete the email. It's that easy!
Example of the Quarantine Daily Report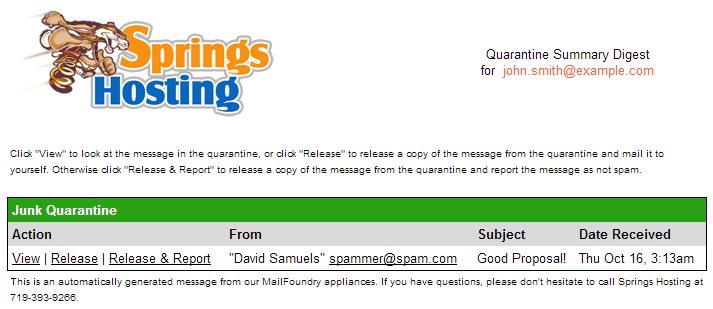 What makes it work well for me?
Industry leading lowest false positive rates — ZERO False Positives.
Stop wasting time checking your quarantine.
No more lost business due to lost emails.
Traditional anti-spam methods are more likely to block legitimate email.
Easy Microsoft Outlook™ Toolbar to easily report spam.
MailFoundry's email protection engine, MessageIQ, is the newest, most capable engine available on the market today. bar none. That's quite a claim, we know. Unlike the other products, we can back it up.
How does it work?
MessageIQ uses targeted spam profiles that were created to defeat actual spam outbreaks as they happen. We don't use any hueristics or learning systems in our approach. Those systems give fairly decent kill rates, but have horrid false positive rates. They also need constant maintenance and "training" by the system administrators and end users.
The MessageIQ NOC examines email threats as they happen in realtime from around the globe. Over 500,000 messages per hour are classified automatically and new profiles or updated profiles are sent out every five minutes to MailFoundry appliances world-wide. Our profiles are built around current attacks based on their key fingerprints. This involves more than just analysis of the email content. This involves examination of the sending email server, network data, header data, message content and other attributes.
These spam profiles give MessageIQ the ability to quickly and accurately identify emails in realtime.
MessageIQ is a hands-off operation solution. We update the spam profiles every five minutes as email threat outbreaks happen so MailFoundry appliances world-wide have the most up to date profiles without any interaction with the network admins or end users. Since we don't have false positives, we also don't have individual user logins for whitelist management, etc. Many of the features common on other solutions exist as a result of their high false positive rates. You won't find any of that on the MailFoundry platform.
Last 24 Hours Report